SaaS PPC Agency with real in-house experience and proven results
Paid Search, social ads & display specialists, driving ROI for fast growth B2B SaaS companies.
Trusted by 40+ leading SaaS companies​​
We choose to focus on one thing and do it well
What kind of results have our clients seen?
Cybersecurity Company
increase of customers by 284% with PPC
This company leader in in IT and OT critical infrastructure cybersecurity solutions had been running PPC campaigns for years, but most leads were of low quality. They had just about given up on running Google ads campaigns when they first approached us.
What our SaaS PPC Agency do?
Work with an Agency experienced in SaaS Marketing
Audience and Keyword research aligned with SaaS B2B buyer intent
Our strategy and planning services are engineered around deep industry insights and a thorough understanding of your audience. We work with this data to build detailed roadmaps that set out in forensic detail how to realise your SaaS growth objectives.

Keywords and audience segmentation play an important role in making the paid ads more effective. First, we provide the service of perfect keyword and audience analysis in order to create a relevant keywords list and audience targeting criteria.

Then we organize paid campaigns with the most relevant ads, offers and landing pages.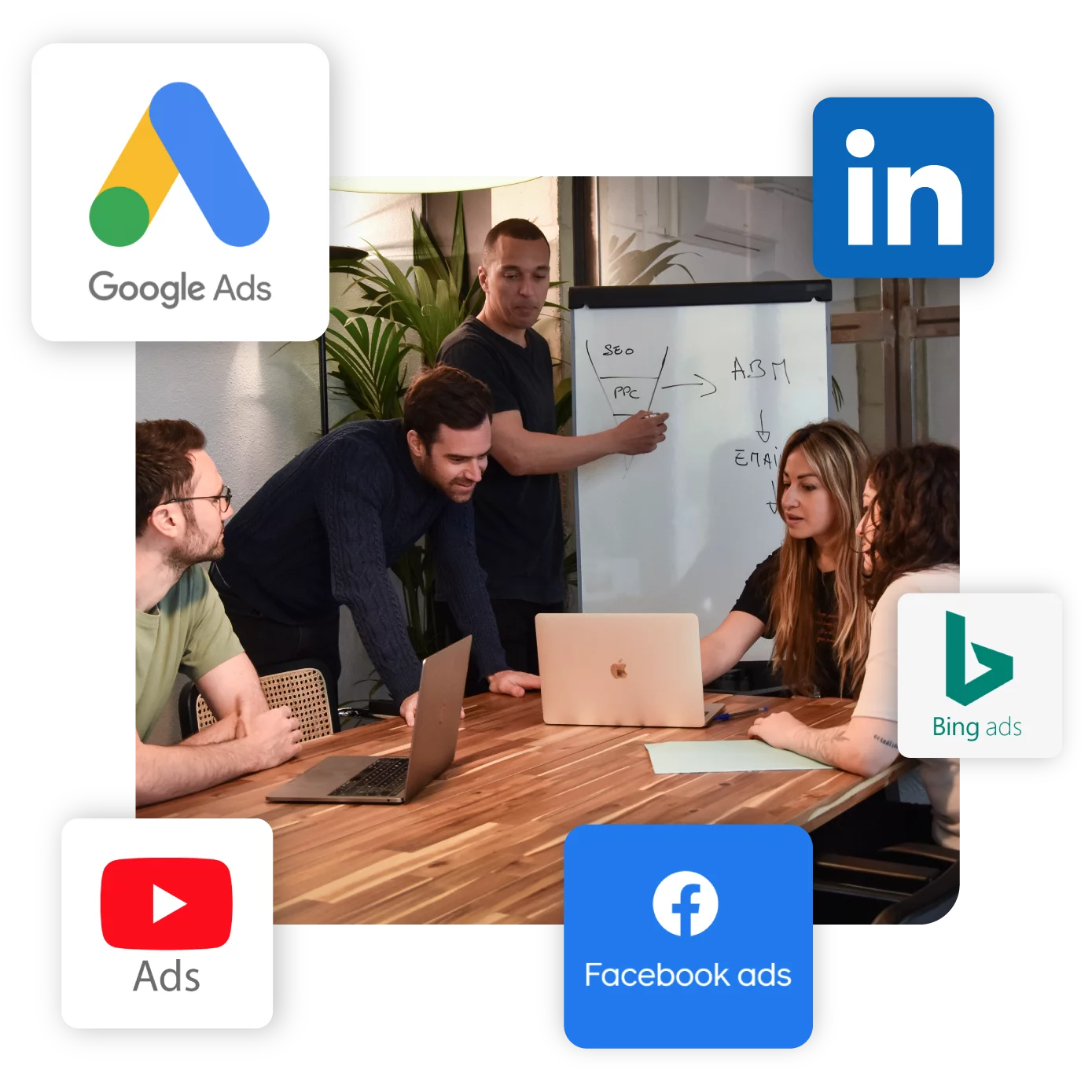 Campaign management and optimization focused on conversions
We focus on conversions, not cost per click (CPC). Testing continuously and offering a relevant, timely offer to users. We create granular campaign structures, compelling ad copy and landing pages creation to achieve the highest conversion rate possible.

We monitor and optimize your campaigns on a daily basis. We go through new data and take insights to squeeze out more alpha which means more revenue from your ad campaigns.

Scale your advertising campaign results and grow your SaaS business with campaign strategy and execution from our experienced team.
Real-time reporting built into a custom dashboard
Many SaaS PPC agencies operate on a "set it and forget it" model. We're quite the opposite. We monitor your accounts daily, are in touch with you weekly, and are consistently pushing your ROI forward. We aim to provide a best-in-class service and operate as an extension of your marketing team.



After the initial campaign has been run, you will receive weekly reports. This will allow you to see results in real-time and can give you a competitive edge. These reports will measure the return on investment (ROI), and we will go through these with you to help you understand the results.

From setting up accurate tracking and reporting with Google Tag Manager, Google Analytics, and Google Data Studio along with SEMRush, Google Search Console, and Power Analytics we have all the data along with the insights to make it actionable.
We'll choose the channels that make the most sense for your buyer persona to increase conversions.
You're getting in front of the best customers for your SaaS business.
We'll build a PPC strategy that improves the quality of leads and volume of conversions by targeting relevant keywords, bringing you only the highest intent traffic from LinkedIn ads, Google Ads and Bing Ads.
Fenix Bretz
CEO @ Kodosurvey
Focus on what's efficient and provides ROI. Actively recommend what NOT to spend time and money on and why that is.
Bob Samii
CEO @ Sharplaunch
They are like a Swiss Army knife for B2B paid marketing… razor sharp and very resourceful. I would highly recommend.
Alexandre Guinefolleau
CEO @ Amenitiz
Extensive knowledge of PPC, the ongoing work has really helped us in Amenitiz so far! I would recommend working with them.
Frequently asked questions
Find out how we can help you!
Join 85+ successful B2B SaaS companies on the path to achieving results with our SaaS marketing services