Carousel ads enhance the chance of lead conversion by allowing you to create an ad with multiple images within the LinkedIn sponsored content, providing a 'storytelling' approach to your message, thus improving your brand recognition and guaranteeing an overall positive outcome.
If you've yet to fully delve into LinkedIn carousel ads, this article provides an in-depth guide on how to do that, plus the best practices used by our LinkedIn Ads agency to ensure the best ROI.
1 – What are LinkedIn Carousel Ads?
This ad format allows you to create a B2B campaign on LinkedIn in the form of a series of cards (all contained within one individual ad). They serve to encourage your target audience to engage via visiting your website or filling in a lead gen form.
For those unfamiliar with lead gen forms on LinkedIn, they are ads designed to auto-fill a lead's information (so the lead doesn't have to do it manually), which is their LinkedIn profile data. There will then be a CTA (call-to-action) button at the bottom of the form, which hopefully your lead will click on and be converted.
Lead gen forms are a quick and easy way for advertisers to gather crucial LinkedIn member information, and you can include one in your carousel ad.
To create a carousel ad on LinkedIn, you must have the following:
– A LinkedIn Page associated with your ad account.
– The permission of a user role such as Creative Manager or another higher rank in the Campaign Manager account.
– Sponsored Content Poster access or higher on the LinkedIn Page permission.
Please note: only designated Page Admins can disable / delete / reply to comments on the ad.
2 – How to Create Carousel Ads
Step 1 – Set Up Your Campaign
For this you will need a LinkedIn profile of your own (or someone from the company's you can log in to) and you will need to make sure your conversion tracking is on. You will then need to head to Campaign Manager and click on 'Create Campaign'.
Select Your Objective
Here you need to select your carousel campaign objective (what you hope to achieve with your campaign). LinkedIn will provide various options and you'll need to suit the one that is closest to your hopes with the campaign.
Typically, users will opt for brand awareness, website visits, and objectives that aim for conversion (such as lead generation and website conversion). If you wish to include a lead gen form in your ad, you will need to select 'lead generation' as your objective.
Defining Your Audience
This part is crucial for the success of your campaign. You need to identify and build your target audience, AKA platform members who are considered 'warm leads' (of whom are most likely to be converted).
You can define your audience via LinkedIn's extensive demographic data, such as locations, skills, education, role, seniority, etc.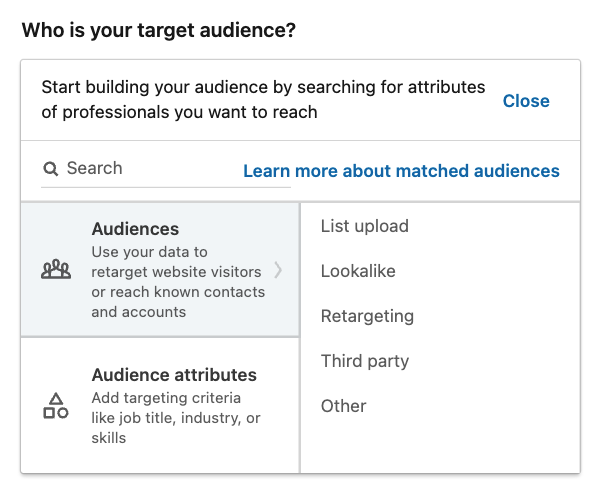 Ad Format
Once you've built your audience of hot leads, you'll need to select your ad format (carousel ads). It is important that you're certain that a carousel ad is the right format for your campaign, as once your campaign is saved, you won't be able to change it.
Below your ad format choice, you'll see a notification that says, "Your LinkedIn Audience Network setting has been disabled as it is not available for the ad format you selected." This is letting you know that your Carousel ad won´t be visible on LinkedIn´s partner apps and websites, because this format is not compatible with them.
Budgeting & Scheduling Your Ad
Once your format is chosen, the next part is to select a daily and lifetime budget for your ad.
Conversion Tracking
As we mentioned earlier, it is crucial you set up the conversion tracking of you ad so that you can see how it is performing at any given time. These metrics will provide data as to the actions of the leads who land on your website.
Step 2 – Getting Your Ad Set Up
Here you need to click on 'Create New Ad' and input the details as required. Next comes adding your ad content to the slides (which must be a minimum of 2 and a maximum of ten). Your content can be created by a content creator you hire, or by yourself or a member of your team. When you upload your cards, make sure to include a headline and URL/CTA.
3 – LinkedIn Carousel Ads: The Best Practices
Some of the best methods to improve the overall performance of your ad are:
– Use informative, to-the-point ad headlines and descriptions.
– Make the CTA clear and easy to find.
– Be specific when creating targeted ads, but not so specific that your audience is limited or too niche. Aim for around 3 targeting criterion.
– Include a clear CTA on every card.
– Start with three to five cards in your carousel, then work your way up from there.
– Display your cards in order to best tell the story.
– Use the last card to advertise your primary offer or CTA.
– Keep track of impressions and clicks for each card and measure your click-through rate (CTR) to track website traffic directed from your carousel ad.
– Include genuine customer testimonials or feedback on your carousel.
– Picture cards displaying relevant services and offers can be great for retargeting ads.
– When creating ads that direct visitors to a specific URL, use dedicated post-click sites instead of your homepage. A specialised landing page that connects ads to offers will increase the chance of the audience converting because of the offer.
Conclusion
You should now be fully-equipped not only to create your first carousel ad, but to also design it to garner maximum success.
Key takeaways here:
– Be clear on your objective
– Be sure that carousel is the right format for your ad
– Spend some time building an audience of warm leads based on around 3 profile information criterion.
– Make sure your conversion tracking is enabled
– Include a clear and easy-to-find CTA on every card.
– Keep a regular eye on your metrics to view how your ad is performing.
If you'd like to learn more about how we help B2B SaaS and Tech companies grow their MRR through LinkedIn advertising, contact us online or send us an email today at info@getuplead.com to speak with someone on our team.
You might also be interested: