A SaaS marketing Agency with real in-house experience
As former Head of Marketing for big Saas companies, we've been doing this B2B marketing thing a long time. We've learned what works… and what doesn't. Our experienced approach is proven to deliver ROI and meet business goal.
SaaS PPC
We are focused on Maximizing the ROI of your PPC campaigns with campaigns that convert into sales
SaaS SEO
We specialize in technical, onsite, and offsite SEO and create engaging content, which converts traffic into customers
Linkedin Ads for SaaS
With an expert understanding of B2B paid media, LinkedIn Ads can be an important part of your growth strategy
SaaS Marketing Training
Get your marketing team the strategic support that they need to succeed. We'll set up clear growth goals and KPI tracking
What kind of results have our clients seen?
How we boosted Beakon leads by 9x using PPC and
improved conversion rates by 90%
Beakon had been running PPC campaigns for years, but most leads and signups were of low quality. They had just about given up on running Google ads campaigns when they first approached us.
We've worked with several international B2B SaaS companies and know perfectly how challenging it can be to acquire and convert qualified leads. We'll drive more website traffic, target the right leads, convert them into trials or demos, and ensure these users become paying customers.
No matter how Google updates the algorithm, we know the secret to user intent and great content. Our SaaS SEO strategy combines technical, offsite and onsite SEO with content strategy and more. We'll help you reflect the intent of your audience's desires and ensure your content and messaging is relevant, findable in the search results, and in-demand.
Stop wasting money on generic terms & PPC tactics that don't convert. We focus on conversions and sales, not cost per click (CPC). Our team has a proven track record and many case studies of growing SaaS, and tech businesses with Google Ads, Facebook ads, and Linkedin Ads.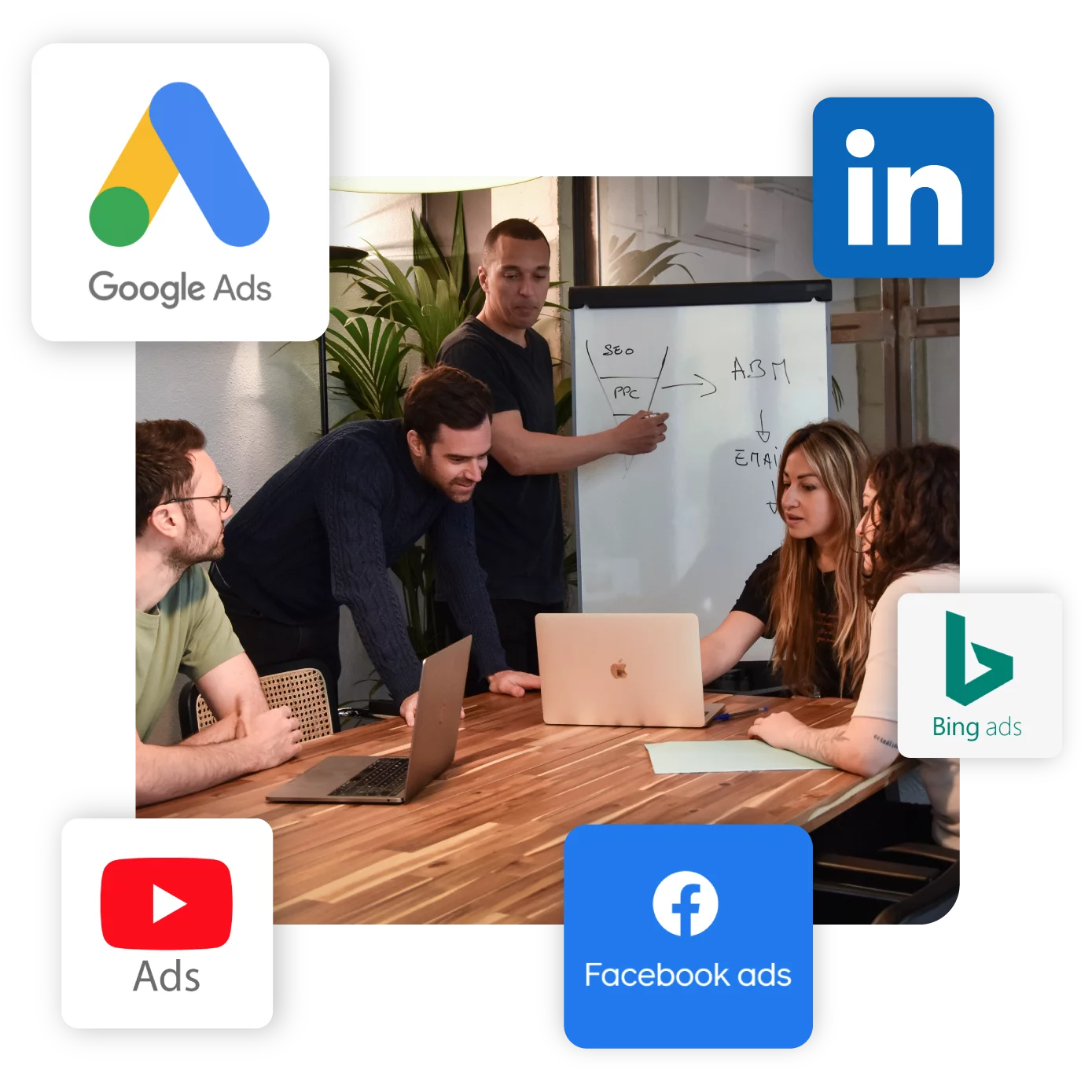 LinkedIn advertising enables you to target audiences based on their job titles, company names, seniority, age, gender and more. The platform has a unique potential to generate high-quality leads and conversions. Whether you're looking to target local companies, or directors across the world, we use effective demographic targeting strategies to ensure your ads reach the right audiences on LinkedIn.
Sometimes you just don't want an outside firm to directly mess around with your website and marketing campaigns. That's fine with us. We understand. Let us come in and train your existing team. Or if you don't have an in-house marketing team, we will help you with the hiring and training.
How do you choose the right SaaS marketing agency?
When hiring a good SaaS SEO agency for your company there are some essential things for you to look out for.
Look at the SEO agency's past performance. Has the agency been competent to deliver great achievements in the past? Are the results comparable to the once you want for your business? Do their clients look similar to your target audience? If the answers to those questions are yes, then you are probably on the right track.
Get case studies, client references, and online reviews. The most reliable way to find a good SEO agency is to look at reviews from past clients. They will always tell the truth. You can also ask the SEO agency to send you some case studies. If the agency have delivered remarkable outcomes in the past, they will be more than happy to share these results with you.
Ask past or current clients about their experience. Get in touch with some of the agency's clients to understand how their experience with the company has been. If the SEO agency that you are considering is genuine, they will have no problem with putting you in touch with some of their clients.
By doing all of the above, you should be in a position to decide if a specific SEO agency seems adequate to work for your Software as a service startup.
When it comes to creating and managing a good pay-per-click advertising strategy for your business you want to make sure you have the right resources. Digital paid advertising is time-consuming and complex, and therefore it might be a beneficial idea to contract a SaaS PPC agency. 
When doing that, you should look out for the following aspects: 
View the different pricing structures. First, you need to consider which pricing structure is best for your company. You can choose between the following four pricing structures:
Performance-based pricing: You pay per lead. Be sure to clearly define what counts as a lead. 
A percentage of monthly ad spend: you pay a percentage of your monthly ad spend.
A flat monthly rate: You pay a fixed rate every month. 
A hybrid approach: You pay a base fee + include a percentage model. This solution seems to have worked best for most SaaS founders. 
Focus on what you want to achieve. You need to be clear on your goals in order to choose the perfect SaaS PPC agency. Your objective can be anything from building brand awareness, lead generation, launching a new product, or drive more sale. 
Once you are clear about your objectives, you are able to communicate these to the different SEM agencies, and they can pitch their solution, tactics and strategies to you.
Understand the digital advertising strategy. It is a good idea to get an understanding of the paid activities that an agency wants to implement before you sign a contract. Of the agency cannot give away all the details before you have made an arrangement, yet there a few points you can focus on:
Does the agency know the best platforms for you to use in order to drive results?
Can they come with suggestions about why your current game plan is not delivering results?
How will they spend your budget most efficiently?
Are they capable to align your paid campaigns and SEO activities?
Check their Inbound Commitment. When you have to choose your SaaS inbound agency, you need to be clear about how much of a commitment you need from the agency. Is it only inbound or do you need a combination of inbound and other digital marketing channels like advertising, automation or email marketing?
Do they utilize Inbound Marketing for themselves? If the agency is not able to do lead generation and inbound marketing for their own company, they probably do not have the skills to improve the customer acquisition process and growth for your Software. So check out if they have a website blog that they post on regularly and what kind of content is distributed ( ebooks, articles…). You can also look at their social media presence to get an understanding of how they connect with their audience.
How well, do they market their own business? Does the agency have a strong online presence and understand how to market their own business? This will give you an indication of what they will be able to do for your company.
Get an understanding of some of the marketing tools the agency will use to provide services ( e.g, Hubspot). Furthermore, you can ask about what software systems are in place to support further understanding of your marketing efforts. This will all help you to decide it the agency is right for your SaaS solution and customer acquisition.
Find out how we can help you!
Join 85+ successful B2B SaaS companies on the path to achieving results with our SaaS marketing services