Have you noticed that there seems to be an automation tool for everything right now? You name the operation or service that you want to automate and you're almost guaranteed to find a tool that suits your needs. Today's crowded, noisy software space is a dream come true for budding SaaS marketing agencies and companies alike. There are automated tools for almost every conceivable marketing need, whether you want to optimize your sales content, qualify leads or drive conversions. 
But here's the rub: with so many SaaS marketing automation tools to choose from, how can you select the best ones to grow your business? How can to cover gaps in your operations and ensure that you've covered all your bases? When it comes to selecting the right marketing automation tools, there are so many options that it's easy to feel overwhelmed. It can be difficult to understand the differences between various tools, and hard to spot where services overlap in terms of what they're offering.
What is the best SaaS marketing automation tool?
There is no one "Best" SaaS marketing automation tool. It depends on your specific needs and budget. That's why we put together this handy list of the best SaaS marketing automation tools to try this year. So without further ado, here is our guide to the top 20 essential marketing SaaS automation tools in 2023.
1 – Hotjar
Hotjar is a powerful behavior analytics tool that helps you understand your users and see how visitors are really using your website. Trusted by hundreds of companies worldwide, Hotjar provides indispensable insights into the usability of your website. This easy-to-use app lets you scroll a webpage's heatmap in order to analyze the content consumption and to keep a check on users who visit your page. With the help of this app, you can easily determine the preferences of your website's visitors and optimize your page's conversion rates. Hotjar even lets you customize the content on a website in order to make it more engaging and attractive to visitors.
2 – Hubspot
Hubspot is designed exclusively for marketing automation and has developed a reputation as the go-to tool for search engine optimization (SEO). Hubspot helps with website development, social media management, blog hosting, management contacts in CRM, offering generation tools, segmentation of lists and workflow build-up. As Hubspot offers many complimentary services, even fledgling marketers and zero-budget startups can develop their marketing with the help of this resourceful tool.
3 – Semrush
Semrush is one of the best SEO optimum tools on the market today and has built a stellar reputation for delivering data-based results. Semrush is used to monitor and check keywords and those of a website's competitors. It provides a SaaS marketer with comprehensive reports regarding the ranking and position of targeted keywords, and critical issues and problems that need to be fixed. Semrush's resourceful toolkits are specifically developed for social media and content management systems.
4 – RelayThat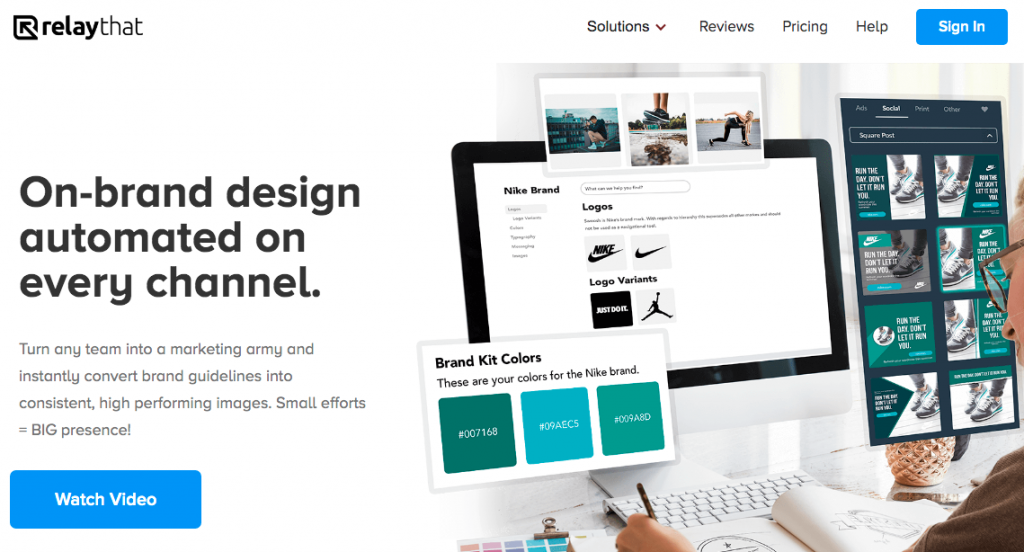 RelayThat takes the guesswork out of design so you can create on-brand, professional marketing creatives in a fraction of the time. With just a few basic ingredients (logo, text, image, and your brand's HEX code colors), RelayThat conjures up thousands of beautiful designs in every format and size you could want.
You'll be able to drag-and-drop your branded content to your heart's content and publish stunning designs in seconds.
5 – Aeroleads
AeroLeads is one of the top-notch SaaS based platform that can substitute all other multiple services and products required for lead generation, email marketing and providing analytics. It can find you the contact details by integrating with CRM tools and provide you valuable insights about your campaigns. Through the analytics provided, you can track and get the real-time data about the CTRs and optimize your marketing strategies. Verify the email list and segregate it within minutes. Get your valuable client email list, name, contact information and other details in a formatted CSV file with Aeroleads Chrome Plugin. It gives you the best practices to enhance the email marketing campaign for brimming entrepreneurs.
6 – Grammarly
Grammarly is a powerful AI-powered writing assistant that can spot common spelling and grammatical errors in any text. It helpfully offers suggestions that help you fix these areas with the most appropriate vocabulary. Great for checking blog posts, marketing copy and emails, Grammarly can help busy SaaS marketing professionals find and fix sloppy errors. Grammarly is available as both free and paid versions for Windows, Chrome, and iOS. Grammarly's Google Chrome extension is a lifesaver for time-pressed SaaS professionals who want to ensure that their professional communications are as flawless as their marketing copy!
7 – Typeform
Creating and analyzing surveys is a crucial part of every SaaS marketer's strategy. Typeform is a resourceful tool that helps marketing professionals keep track of personalized buyer research, product research, customer preference and more. Typeform is mainly known for its assistance in designing and distributing surveys. However, it also features a highly customizable interface that makes it easy to personalize copy, helping you create a branded look for your marketing materials.
8 – TABLEAU
TABLEAU is a great tool that enables you to virtually connect all your sources of data and collate them on a personalized dashboard system. This handy tool also helps you keep a check on the performance of your company with the help of an easy-to-read location feature. TABLEAU shows you a real-time view of a company's performance via a beautiful custom dashboard. It connects seamlessly with more than 50 other platforms such as Wistia, Instagram, Google, Facebook, AdWords, Shopify, HubSpot and many more.
9 – Vidyard
Vidyard is an optimum video-platform designed especially for businesses. More than simply another video hosting platform, Vidyard lets you increase leads, accelerate sales and reach new customers with ease! This powerful marketing automation tool lets you customize your videos according to your target customer, helping you post personalized videos in order to pitch to clients more effectively. Vidyard also integrates seamlessly with every web browser, helping your content reach a broader audience. This robust marketing automation tool is specifically developed for video hosting and comes packed with a range of professional-grade customizations to better serve your needs.
10- EngageBay
EngageBay is an affordable all-in-one marketing, sales, and customer support designed for small businesses. This SaaS tool offers an incredible array of tools, including contact management, email personalization, drip campaigns, sequences, marketing analytics, deal pipelines, workflow automation, email sync, and so much more. You also get live chat, helpdesk, macros, in-CRM telephony, service automation, and other features to help you offer exceptional customer support.
11 – Albacross
Albacross is a free marketing tool that's integrated within a Google Chrome extension. Albacross is designed to offer enhanced and enriched data for the purpose of marketing. This tool is designed to autonomously collect information for specific purposes, helping you grow your business. There is also a paid version of this app which offers a slew of resourceful features that are targeted at gathering data to support your marketing strategies. With Albacross, B2B lead generation couldn't be simpler, making this a must-have SaaS marketing automation tool for 2020 and beyond!
12 – Wistia
Wistia is a video-hosting app designed and developed specifically for business purposes. Of all business-related video hosting services currently available, Wistia is worth a look. This intuitive tool enhances the entire communications process, helping to improve conversions and develop connections with your customers. As customized videos play an increasingly pivotal role in the marketing strategies of many SaaS marketing businesses, Wistia is designed to help you personalize your video and engage your customers with 'binge-worthy' videos that turn viewers into brand advocates!
13 – Pandadoc
Pandadoc helps automate the process of creating, sending, tracking, and e-signing sales documents. This handy tool enables you to store all your important documents and content in one place so that you can access them easily. Pandadoc also provides you insights on when people have viewed and responded to your documents. This tool is indispensable for busy SaaS professionals who are looking to attract and retain customers. If you're looking to automate the process of creating sales documents that close, Pandadoc is well worth a look!
14 – Trello
Trello is a great project management tool that has a proven track record of helping thousands of SaaS marketing companies plan projects in a fun, rewarding way! Trello helps with team and project management so that employees can perform their tasks with greater consistency and efficiency. Trello provides various personalized layout designs such as board and list layouts in order to work through agile phases. This sleek tool also features harvest integration for real-time tracking of tasks and projects.
15 – Slack
Slack is a work management tool that helps any company streamline and modernize their conversions. Slack uses DMs (direct messages) to help professionals personalize and customize their conversions so that they maximize their efficiency. Slack owes its popularity to its intuitive, user-friendly interface that features a range of innovative features. With Slack, you can streamline your team's conversations and workflows, helping to maximize their work output.
16 – Encharge
Encharge is one of those SaaS marketing automation tools that makes you realize you've been living in the last century! You may be all clued up about email marketing, but Encharge is all about marketing automation! This super-useful tool helps you gather customer data from ALL your marketing apps so that you can automatically send the right messages to the right people at the right times. This makes light work of generating and retaining leads while helping you move customers through your sales funnel with ease!
17 – Canva
Canva is basically a cloud-based tool for photoshopping that makes creating professional-quality images a breeze. Canva is a highly effective tool for office use and is used by countless SaaS marketing companies who are looking to create professional-grade social media posts, infographics, logos, pamphlets, video thumbnails, designs for ebooks, timeline covers, invitation cards, visiting cards, blog covers and more.
18 – Userlist
Userlist is a messaging tool for customers that helps you onboard and engage the users of your website after they sign up for your service. This highly effective tool in comparison to building an in-house solution and far less complicated than other tools on the market. Highly recommended.
19 – Autopilot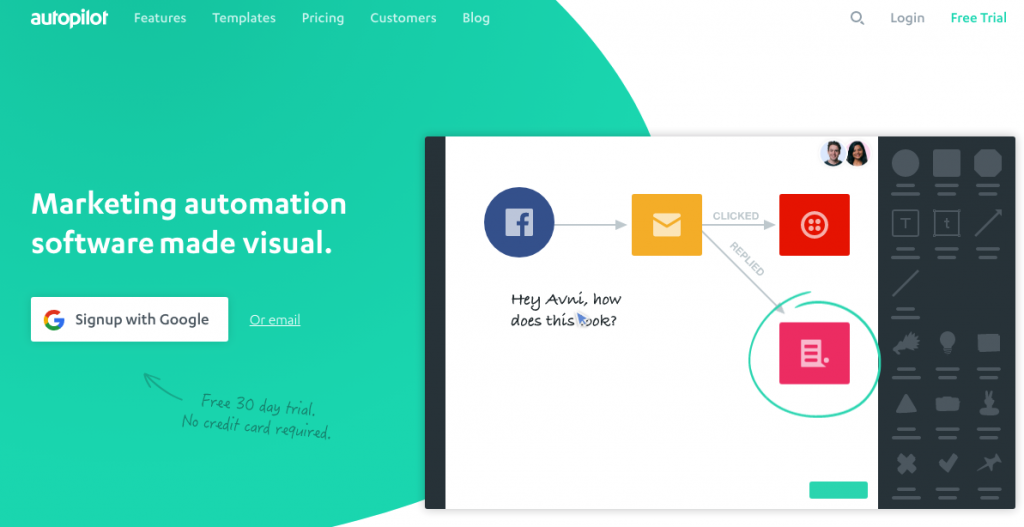 Autopilot is a tool that keeps all the information your company gathers about the customers in one place. It also interprets and designs the customer experience and automatically emails your customers with relevant news, insights and information, according to their preferences.
20 – Better Proposal
Better Proposal is an online proposal writing tool that helps you write winning proposals in a quicker and more attractive way through the use of templates. You can remove, add or change the content as per your requirements as well as embedding your company colors, including a video of your company's journey and add your logo to help build the brand image of your company. Better Proposals' innovative use of depth analytics and digital signatures helps you close more sales and get paid faster!
21 – Zoom
Zoom is the video conferencing tool for the 21st century! Video conferencing has become essential for companies of all sizes, and Zoom ticks all the right boxes. Perfect for facilitating online meetings in any location, Zoom works flawlessly on computers, webcams or even on mobile devices. Zoom is trusted by thousands of companies worldwide to provide seamless connectivity at any time of the day or night.
22 – Stripe
Stripe is fast becoming the gold-standard payment service for companies globally and offers an award-winning API to e-commerce businesses that need to easily integrate a payments option on their website or apps. Stripe's sleek and intuitive website provides an effective gateway to a wide range of financial services and payment providers in all areas of lending and credit, Stripe owes its dominance to the ease with which it integrates with hundreds of other services. For busy SaaS marketing professionals who want the easiest way to get paid, Stripe is tough to beat.
23 – Plann
Plann is a powerful management tool designed to help businesses plan, schedule, and analyze social media content. With Plann, you can easily create a visual content calendar, schedule your posts in advance, and track your engagement metrics in real time.Plann offers a variety of features to help streamline your social media strategy, including a drag-and-drop visual planner, content discovery tools, and advanced analytics. You can also use Plann to collaborate with team members and track your competitors' social media activity. One of the standout features of Plann is its ability to help businesses create a cohesive and visually appealing social media presence. The platform offers a variety of customization options, including the ability to create branded content templates and color schemes. Plann has the ability to help businesses create a cohesive and visually appealing social media presence. Plann is an excellent option for businesses looking to take their social media strategy to the next level. With its robust features and user-friendly interface, Plann can help you save time and increase engagement on your social media channels.
24 – Drift
Every SaaS marketer knows the importance of getting new customers into their sales funnel and keeping the conversation going until they become paying customers. But this is easier said than done! Drift is an indispensable conversational marketing and sales tool that lets businesses buy from other businesses. Designed to make buying easier than ever, Drift helps you start and enhance conversations, and avoid 'ghosting' customers. This revolutionary marketing automation tool enables you to initiate conversions and establish professional relationships with your customers. Overall, Drift is one of the hottest automation tools right now for supporting after-sales services other post-sales-related features that today's customers expect.
Conclusion
Our top 22 essential SaaS marketing automation tools for 2020 cover almost all aspects of your SaaS marketing needs. At their core, all tools are about helping you engage with your customers by offering them the right content in the right way. When choosing the right automation tool for your business, it's critically important to choose a range of tools to achieve your desired growth and fulfill your sales targets. You must prioritize which aspects of your work that you automate and focus on tools that help you place a greater focus on developing your strategy and delivering optimum results. We're confident that our list of the top 20 SaaS marketing automation tools will help you grow your business this year and beyond.
If you'd like to learn more about how we help B2B Tech and SaaS companies grow their MRR through PPC, find out more about our case studies.