If you're familiar with the basic fundamentals of conversion tracking for your digital marketing (for example, on campaigns created on Google or LinkedIn), the good news is, tracking your campaign's conversions on Bing (Microsoft Ads) works the same way.
So, if you're thinking of extending your marketing strategy by creating a Bing Ads account for advertising, here's how to set up conversion tracking to monitor your Bing Ads.
What's So Great About Conversion Tracking?
Measuring your campaign's success is a crucial part of the process for seeing how well your ads are performing.
This can provide key insights to your bids and budget, as well as whether or not your campaign is meeting its targets, and how well the audience is engaging.
Other benefits of conversion tracking include:
Build Experience on Microsoft Advertising
Not only will conversion tracking help you broaden your expertise on Microsoft Advertising, it will help the platform continually enhance and improve its services for advertisers, which, in the long-run, will better serve you – the advertiser.
Help You Improve & Optimise Your Campaigns
Conversion tracking is the quickest and easiest way to monitor the performance of your ads while they are live, which then provides crucial insights in areas that can be improved.
This will help ensure you're getting the best out of your budget spend, as well as managing your bids (and can shed light on whether adjustments are needed), and whether or not your audience is responding how you would like them to.
The best part is, conversion tracking allows you to monitor your conversions offline, as well as online.
Saving Time With Automated Features
Bing allows you to take full advantage of its automated features when you use conversion tracking. This includes help with audience targeting, bidding, campaign management, and optimisation suggestions.
Microsoft Advertising Conversion Types
Microsoft Advertising allows its users to choose one of seven different conversion goal types for your campaign. These include:
App Install Conversions
For this conversion type, you will need to correlate with a certified partner of Microsoft Advertising, who then provides you with a measurement URL and a software development kit (SDK).
If you have previously used Bing to create an app install ad, you will only need to create your mobile app conversion goal when setting up another campaign where the key goal is to entice your audience to install an app.
Once you've established your Microsoft Advertising partner/s, you will then work together to create tracking/measurement URLs for your campaign. However many apps you are advertising equals the amount of URLs you will need.
It is important to keep in mind here that while conversion tracking is suitable for all device types, ad install conversions are only compatible with IOS and Android.
Online Conversions
This option is designed for those who wish to track activity on their websites by way of their ad campaign. This option also comes with several "subtypes":
PRODUCT: This is for those selling a specific product on their website.
PAGES VIEWED PER VISIT: This tracks visitors who visit multiple web pages in one single visit to your site.
DURATION: This tracks users who stay on your site for longer than a set period of time.
DESTINATION: This is designed to monitor those who head to a specific area on your website, as allocated by you.
From here, you have two possible outcomes regarding your conversion goals:
Event. (Downloading a newsletter, etc.)
Product conversion goals for brands.
Standard product conversion goal.
Please note: these latter two are applicable only for feed-based ad campaigns, meaning you will need to set up Microsoft Shopping Campaigns to take advantage of these two options.
Offline Conversions
As we mentioned earlier, conversion tracking is effective for offline activities. This means a conversion is counted if, for example, your ad encourages a user to call your company to set up an account. This action is performed offline, but it still needs to be counted and documented as a conversion.
You won't need a UET tag for this because the action happens offline. Instead, you'll need to create an offline conversion goal and then import every offline conversion you get into Microsoft Advertising. There is more than one way to do this:
Upload a file once.
Create a schedule to upload multiple conversion files.
Upload conversions through APIs.
Regardless of what option you select, you will have to prepare your conversion data to be imported to Microsoft Advertising. Here's how:
Download your template via an Excel sheet or a .cvs file.
Complete the following info: Microsoft Click ID (MSCLKID), conversion name, conversion time, conversion currency, conversion value. The latter two are optional.
Save your imported file locally, unless you want to create an import schedule, in which you'll need to save the file to an online location.
As for setting up, you'll need to set up your UET and then create a goal.
Setting Up Your UET Tag
The next step is to set up your UET tag to monitor conversions on your website. Here's how:
Head to 'Tools' and select the 'UET Tag' option.
Click on the blue icon "Create UET tag"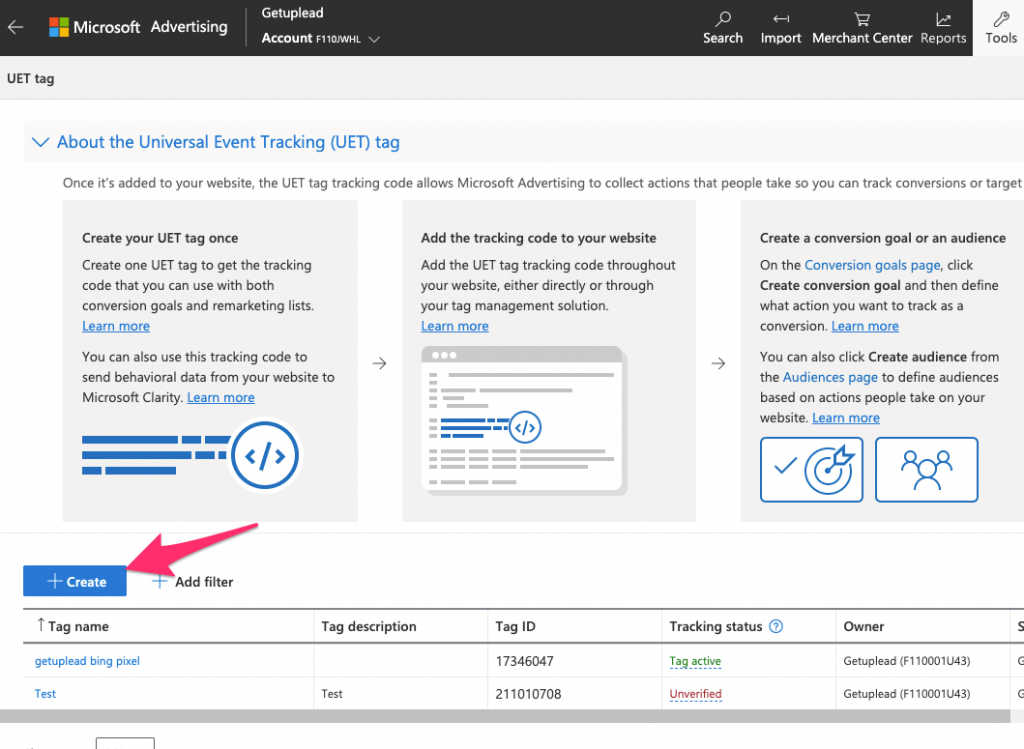 Give your tag a name and a description (optional) and click 'Save'. This will help you remember the purpose of your tag.
You will then get a pop-up tracking tag code, which you will need to input into the back-end of your website (either head or body section is fine).
It will take Microsoft roughly 24 hours to pluck all the required data from your website in order to put this function into effect.
Your UET tag will then appear on your tag list. You will only need ONE tag to monitor all conversions on your website, so you will not need to repeat this process for every page of your website.
Setting Up Conversion Tracking
Now you have completed all of the necessary tracking steps, you will need to decide what "events" you wish to track when your campaign goes live. For example, tracking how many users download an eBook would mean you need to set up a CTA (call-to-action) saying something like "Download Our eBook" as the conversion event.
Here's how to set up your event:
Head to "Tools" again and click "Conversion Goals".
Click on "Create a Conversion Goal".
Give your event a name (correlating with the CTA) and choose your conversion type from the list available.
| | | | |
| --- | --- | --- | --- |
| CONVERSION TYPE | WHAT DOES IT DO? | SPECIFIC VALUES TO INPUT | GOAL CATEGORIES |
| DESTINATION URL | Tracks visits to certain pages on your website | Destination URL, plus the scenario/action. | Sales categories > Leads categories > Other categories |
| DURATION | Track the period of time a lead stays on your website (or specific page) in comparison with a set time (e.g.: 2 minutes, etc.) | The time duration: the minimum you expect a user to stay in order to track the conversion | Other. |
| PAGES VIEWED PER VISIT | Whenever a visits more than a specified number of pages on your site. | Pages per visit/more than X pages… | Other. |
| PRODUCT | Tracks the purchases of a product via your ad (you will need to set up Microsoft Merchant Centre for this option). | A customisation of your UET tag in regards to the product in question. E.G.: the product I.D. | Purchase. |
| EVENT | Track a lead when they click on an event. | Event category, event action, event label, event value. A customisation of your UET tag tracking code to report an event conversion. | Sales categories > Leads categories > Other categories |
| MOBILE APP INSTALL | Tracks when someone installs your app. | The app platform and your app ID. | Download |
| OFFLINE CONVERSIONS | Your conversions that do not take place online. | N/A | Sales categories > Leads categories > Other categories |
You will also need to fill out the following:
Scope: In order to track multiple campaigns across multiple MS accounts (if you have them).
Count: How Microsoft tracks all conversions after one click. This means if a lead purchases more than one product but only via one click, the conversion will be logged as how many purchases were made – not how many clicks.
Revenue Value: The value of each conversion.
UET Tag: Only applicable if you have more than one, in which case you'll need to make sure you select the correct one.
Conversion Window: The length of time between campaign click and the conversion.
Include in Conversions: This is default on, so unclick it if you don't wish to include it within your conversions column.
Once you have completed all of this information, make sure you click "Save" to save your preferences. You will then be able to see your newly-inputted goal in the Conversion Goal list table.
Conclusion
You are now ready to launch your campaign and track all conversions in whichever way you desire. Keep regular track of your campaign activity in order to improve and optimise your ad to ensure the best ROI (return-on-investment).
If you'd like to learn more about how we help B2B SaaS and Tech companies grow their MRR through Bing ads, contact us online or send us an email today at info@getuplead.com to speak with someone on our team.
You might also be interested: